HOLISTIC WELLNESS
CONSCIOUS NUTRITION,
LIFESTYLE & NATURAL COSMETICS
a consulting service to take back control of your
body & mind,
reach enjoy your full potential
& become the best version of yourself
PRESENTATION – SERVICES OFFERED – ABOUT ME
You are looking for:

A NEW LIFESTYLE
A BETTER DIET
A WAY TO TAKE BACK CONTROL OF YOUR BODY & MIND
HEALTHY SKIN & HAIR
IMPROVED INTELLECTUAL & PHYSICAL PERFORMANCE
A HEALTHIER, HAPPIER VERSION OF YOU
RADIANCE. VITALITY. HARMONY
Because everyhting we « absorb » has an impact on our bodies, I'll help you understand why modifying your habits can change your life.

My focus in on the interconnectedness of body & mind.
The tools we"ll use to hone in on that focus are:

* food that the body needs
* stress management
* creativity
* body care cosmetics as natural as possible

Because we are all different, my focus is to help you develop your own sense about what is most favourable for you, so you can make choices that serve you.

After few weeks you'll notice an increases in:
* daily joy
* energy, steady vitality
* sleep quality
* willpower, confidence, serenity
* concentration and clear ideas
* effortless weightloss without trying or frustration
You'll also notice you have:
* better digestion, no more bloated belly
* disappearance of cold extremities
* control over cravings
* fewer worries & less anxiety, anger or mood swings
* glowing, healthy skin, fewer dark circles
* healthy hair, strong nails
* decreased cellular aging
Note: My approach is based on balancing food. This takes time and will require you to change how you think. Throughout this journey, we will move at your pace, however, you have to be patient, open-minded and ready to do things differently. Trust the process.
SERVICES OFFERED
To regain an original state of freedom, of joy & be able to wake up happy every morning no matter gray sky or sun
These service includes:
* initial Whats'app call consultation, if necessary
* online screening questionnaire prior to the session
* the session
* post-session report detailing, practices to follow, research to do, introspective work, recipes, bonus…
* follow-ups by text message over 1 month period following the session
Please note the following:
*this program is based on commitment, to bettering yourself. Through a coaching style, we'll work through challenges and set objectives for you to reach as you make those all-important changes in your life
* The program spans 6-12 months
* All appointments are online
* Payment can be made as one advance lump sum or in 6 interest-free instalments (150€ x 5 + 50€ x 1) by bank transfert
How does it work?
We can work together wherever you are, whether in Phnom Penh, Bali, Miami as appointments are online.
1 – You can either leave me your contact information at laoban@donttellmysisters.com or use the contact form here or contact me on Whatsapp at +33 7.49.87.72.38
2 – We'll talk about what you want to achieve
3 – Set a start date
4 – I'll send you a questionnaire to complete and we'll be off to the races!
For further information, don't hesitate to contact me!
General Conditions of Sale and Use are here.
Prices are in euros and all taxes included.
You'll need:
* a lovely notebook
* pieces of paper, colorful pen
* motivation
Disclaimer: The nutritional information in this program is not intended to be a substitute for professional medical advice, diagnosis, or treatment. Always seek the advice of your health care provider with any questions you may have regarding a medical condition.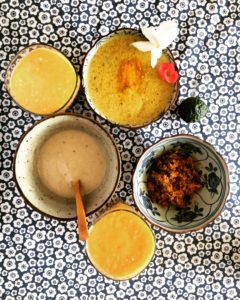 This work that we do together is based on :
* my trainings
* my expérience
* common sense
* scientific research of others
* principles of homeostasis, the acid-base balance, your metabolism
* your unique preferences
* prevention because it's never too early/too late to start living in a way that boosts vitality & wellness.
* caring, sincere, positive and respectful discussions and commitment

It's up to you to make that paradigm shift, to challenge yourself, find your balance, no matter your diet.
It's always a good moment to plant seeds in the mind that will do their part in the process of transformation. Change comes in passive & active ways.
ABOUT ME
Values & philosophy

NATURAL
ORGANIC
LOCAL
SEASONALITY
RESPECT
GOODNESS
NICE
QUALITY
BALANCE
ESSENTIAL
INTEGRITY
SINCERITY
ALIGNMENT
FUN

While reducing waste and adapting to everyone's possibilities: time & financial means…
I won't give you a list of tablets to take but rather some good virgin oils, spices, seeds…
My background

My name is Darachan, I'm half french, half Cambodian.
I have been interested in holistic beauty for more than 20 years.
Over time, through my experiences but also those of others, I have realized that what makes it possible to achieve and maintain "so-called genetic advantage" is above all, a certain lifestyle.
After looking for outside solutions to certain annoyances – tablets, medicine, essential oils, floral elixirs…- none of these made any positive or lasting changes. It was then that I began to experiment quite a lot. I started to train in this field and I discovered that the real results came with dietary adjustments.
Emotional balance, food cravings, skin, hair, nails, vitality, motivation, concentration, confidence, sport, memory, …
All these points have improved dramatically.
Note: I'm not a doctor. I don't make diagnostises. I provide holistic wellness support.
Trainings & Experience
* 2021 – Advanced Diploma in Organic Cosmetic Science @Formula botanica
* 2021 – Nutrition Science according to yhe principles of naturopathy @ADRN
* 2022 – Various cures sugar-free
* 2021 – Gluten-sugar-dairy-free during 3 months
* 2021 – Homemade juice fasting 5 days
* 2020 – Homemade juice fasting
* 2019 – Gua sha facial massage workdhop by Sylvie Lefranc @Absolution
* 2019 – Adaptogenic plant wordkhop by The french coconut @Absolution
* 2019 – Juice fasting, yoga, meditation in Bali @The yoga barn
* 2019 – Natural cosmetics workshop in Bali @Ubud Botany Interactive
* 2019 – Jamu and natural cosmetics workshop with fresh fruits in Bali @Angelo store Ubud
* 2019 – Botanic garden & natural cosmetics workshop @Cantika Zest
* 2019 – Skin smoothie fasting in Shanghai @Lizzy's all natural
* 2018 – Yoga retreat in Anji
* 2018 – Fermented korean alcool natural cosmetics workshop in Shanghai @My beauty farm
* 2018 – Kombucha worksjop in Shanghai @Papps tea
* 2018 – Beauty smoothie fasting in Shanghai @Lizzy's all natural
* 2015 / 2019 – Many natural cosmetics workshop, soap, essential oil,… @Aroma Zone
The goal is to move towards autonomy, fulfilment, exploring your full potential, to be the actor & creator of your life.
In other words, take back control of your body & mind, keep your vitality, beauty & youth.
Whatever your culture, habits, age, we can all improve ourselves so…
… ready to start? …

Pictures & illustrations DR Don't tell my sisters